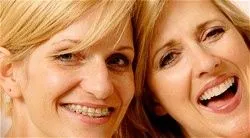 Six Month Smiles is a conservative Short Term Ortho (STO) System .  It is a unique cosmetic option for adult patients who don't want comprehensive orthodontic treatment - either because of the length of treatment time (2+ years) or the appearance of metal braces.  With Six Month Smiles you are offering a life changing service for people who previously had no hope and no realistic options for improving their smiles.
The Six Month Smiles System uses unique, clear Lucid - Lok brackets and tooth colored wires to gently straighten and align teeth into more desirable positions.  "It is very aesthetically pleasing".

Give us a call today to see if you're a candidate for Six Month Smiles!